Nuffnang PJ Party – The Pre-Party
Posted by: dweam on: March 20, 2008
Wah. Honestly, I dont know where to start. There are so many things to write! So many pictures, so many happenings! After seeing all the posts and comments from my previous post (thank you everybody!), it's tall order trying to fill the shoes of the other bloggers who already blogged about the awesome event. What's there for me to write that hasnt already been covered?
Let me start at the very beginning.
Be warned! Ultimately LONG ENTRY.
Because the party was held in KL, the SGean bloggers had the privilege of coaching up. It must been no easy feat trying to organise two buses of bloggers. Logistics wise it must have been terrible! Especially since most of us were bringing along a friend/partner.
On the Saturday of the party, SGean bloggers had to wake bright and early to gather at the Nuffnang office.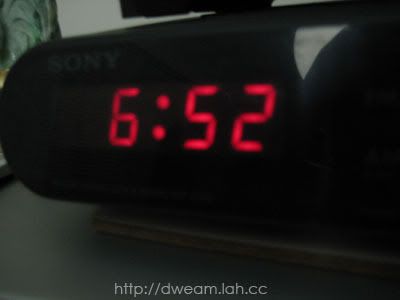 6.52am and mum is already pottering about the house preparing breakfast. She's super excited I tell you.

We take a cab…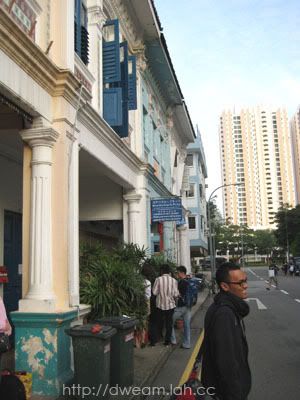 and arrive at a row of old houses. Doesnt the sky look pretty?

Ahh.. 33 Kinta Road. We've arrived.

Im surprised to see there arent a lot of people waiting around.

I see a bus parked by the roadside. I assume it's ours. I thought there were two? Where's the other one?
Mum and I hang out and survey the area as Hui Wen and Scott go about their administrative duties. Hui Wen comes and passes us a map.
Im determined to document every single moment. Haha. So I take a picture of the map too.
Soon after the bus uncle comes and tells us that we're allowed to board the bus. YAYYYY! Mum and I rush up and I plonk myself into the seat positioning myself comfortably and arming myself with my camera.
It is 8.06am according the clock on the bus.

Suddenly! The first appearance of a famous blogger! nadnut is the earliest famous blogger to arrive! I sneak a picture of her like a paparazzi, but she spots me! Boohooo. But she suggests a picture together. So sweet la.
Muahahaha! ZOMG. My first picture with a famous blogger for the day!
Then after, as the other people stream in, I spot another familiar face! It's Jayden!
Making like a stealth sniper, I snap a few pictures of Jayden and nadnut.
The engine of the coach finally revvs up at 8.30-ish and we're on our way to KL! YAYYYYYY! Along the way Scott suggests we introduce ourselves and an item/animal that best represents us in an attempt to get to know each other better.
Scott says he is tissue paper, because, of the brand Scott tissue.
-_-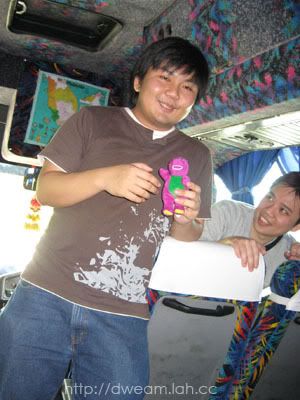 Julian is Barney
Julian's was originally from the OTHER bus. But decided to move over cause he said the atmosphere there was quiet. Most of the bloggers in the bus were sleeping. Thus to welcome him to our bus, and as part of his initiation rite, he too has to introduce himself and what best represents him. FOR A GOOD 20 MINTUES! HAHAHA! As he explains to us that Barney the purple dinosaur best represents him, we have a good time poking fun at him. His friends say he looks like Barney. Hahaha. What do you think?
Laughing is tiring yknow. After lunch (Ramly burger!) the bus is falls into deep slumber. Wah lao, they damn zhai loh. People sleeping they go take picture. Haha. THANKS AH CHRISPY.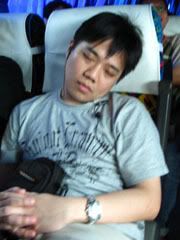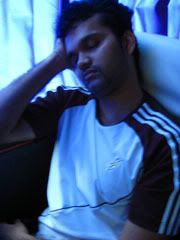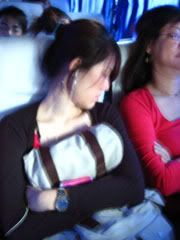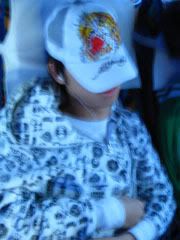 Fast forward.
How do you know you're in Malaysia?
1) When you see the signs in Malay
2) When you see huge billboards!
We travel for a good 3 or 4 hours more and finally arrive in KL! We see buildings instead of rows and rows of trees. Whoooooooooo! Amongst the buildings, we slow down and stop by a funkily coloured one.
TUNE HOTELS. Our accommodation for the night.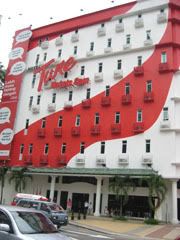 The bloggers alight from the bus and seek salvation in the hotel. Ahhh. We're warmly greeted by Ming and the rest of the Singaporean organising committee at the lobby. And Ming shakes my hand and greets me by name. WAH! Im so honoured!
We grab our keys and proceed to check in to our rooms. I stayed on the 5th floor while it seemed most of the rest were on the 2nd and 3rd floor. Nvm la. We ATAS! Haha!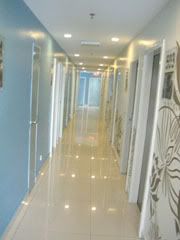 We exit the lift and were instantly greeted by the brightly lit hallways and dainty flower motifs painted on the wall. SO PRETTY! I LIKE!
Even the walls of the room had the same design!
Greeting us as we place our luggage down, is a small little personalised note by Tune Hotels specially for Nuffnang Bloggers! Hahaha. They had free wireless in the hotel because well, you know how bloggers cant live without Internet access! Internet is like the air that we breathe. No Internet = no blogs! And the huge ass pink mirror is awesome for photowhoring. Haha. Again, typical characteristic of bloggers.
Next post: The PJ Party
10 Responses to "Nuffnang PJ Party – The Pre-Party"