My Make-up Tutorial
Posted by: dweam on: May 12, 2008
I will now attempt to show you what goes into making a pretty face. The effort women put into looking good. As they say, there are no ugly women, there are only LAZY women.
Yes, there may be photoshop and digital makeup what with technology so advanced. But seriously, if you're going on a date with that hottie, how are you going to photoshop your face in that expensive restaurant? Unless you have a computer screen for your head, I still say old school techniques wins hands-down. No wonder cosmetic companies over the world are filthy rich.
And after this tutorial, boys you will also have gained a little insight into why your girls take forever in the wash room.
I absolutely love makeup. Though I wouldnt consider myself a beauty junkie, I still have a pretty decent arsenal of cosmetics. Make up can change your appearance and enhance/conceal a lot of the flaws we so constantly lament about. It can turn a sultry girl into a sweet, girly girl, a girl-next-door into a va-va-voom vamp or need be, transform you from normal person into something gruesome out of your horror story pages for Halloween. But, I wont be showing you the latter. Hahaha. Cause I dont want to terrify you. But rather, this is more for when I have to attend a special dinner function or spend a night out on the town with ma girlies.
The emphasis?
Smokey eyes with dramatic lashes.
Always start by washing, toning and moisturising your face. The three most basic steps to maintaining good skin. Of course, sweep hair off face.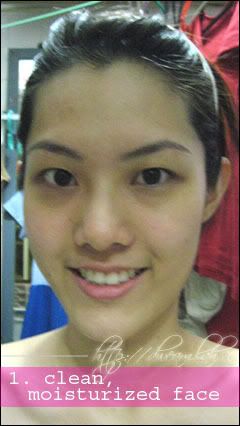 I start by concealing dark-eye rings. Always use your ring finger, because the skin around the eye area is delicate and subjecting it to undue mechanical stresses and pulls will cause fine lines. Trust me, I know. T___T
For concealing, I use Covermark foundation. Not to be confused with the American Covermark.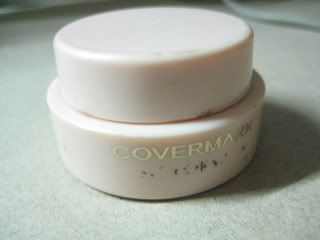 This one is Japan made.
The formula is thick, but apparently too thick and heavy for use as a foundation in Singapore weather. Thus many of the consumers actually use it for concealing. I tell you, this foundation works wonders. Sometimes I use it for stage or concealing my birthmark. So you can imagine how heavy-duty it is. It retails for 40 bucks a pot, but lasts pretty long if you use it mainly for concealing.
Exactly in cases like this, I usually use a thin layer to veil under eye dark rings. You dont want to have 2 patches of thick foundation under your eyes do you. Haha.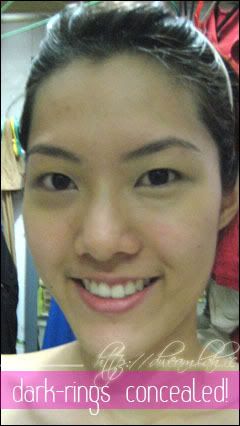 Up next, foundation.
For special occasions, I use my favourite Moisturing Fluid foundation by Anna Sui. It comes in a pretty flower motif bottle. It's light and feels airy on your skin, you dont feel as though you're wearing foundation, yet it provides good coverage.
Dab it across your forehead, left and right cheeks, nose and chin – 5 points.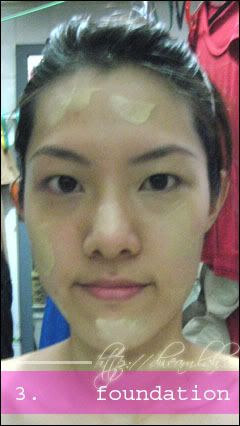 Spread evenly across face and neck. Foundation evens out our skin tone because we generally have different skin tone across the face.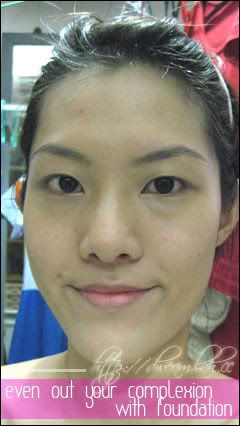 Next, after your foundation is dry, set foundation with loose powder. This is to mattify your foundation and give your face a flawless complexion.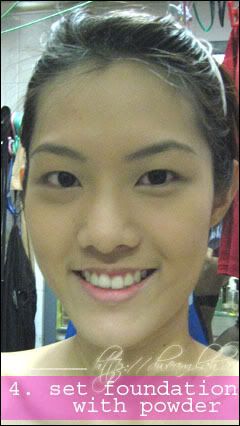 Now comes for the splash of colours! The eyes are the trickest part, I feel, in the entire line up. But it takes practise and soon enough you'll be experimenting with different colours of your own! For smokey eye effect in this tutorial, you can use whatever dark colours you like – blue, brown, dark green or even purple. I use a combination of brown and grey/metallic silver from M.A.C Royal Assets Smokey Eye Palette.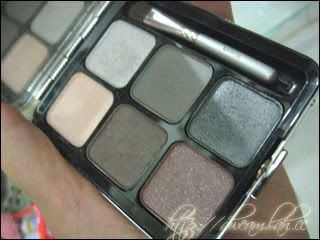 Using the lightest shade, cover the entire eye area up to your brow bone.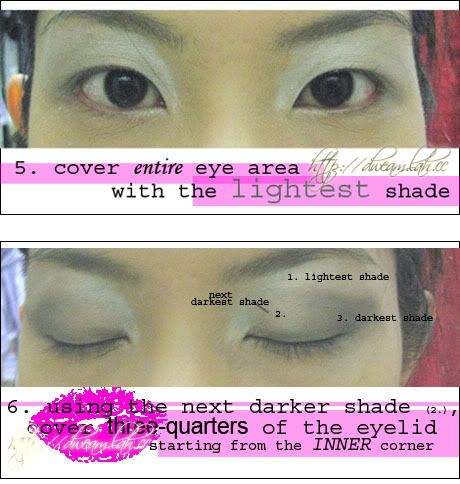 For the second colour, I use a brown (the middle colour in the left column). And the darkest grey for the third colour. The method shown is a left-to-right gradient. Make sure when you apply your shadow, you use left to right strokes and BLEND BLEND BLEND! You want to make sure your eye colours blend and transit smoothly from one colour to the other. There shouldnt be 3 separate colours on your eye. Haha. Not unless you are a painter's palette.
After blending you should get a smoother transition like that shown below.
Once you are satisfied with your eye shadow, it's time to blush it on!
To get the sunken cheeks/high-cheekbone look spawned by them runway models, you should brush your blush DIAGONALLY downwards in the hollow of your cheeks. Your blush usually starts at the hair line at your ear and reaches just above the corner of your mouth. If you dont know where the hollow of your cheeks are, suck in your cheeks and brush your blush below the apples of your cheeks.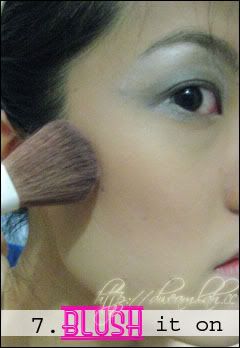 After applying eye shadow and your blush, you should get….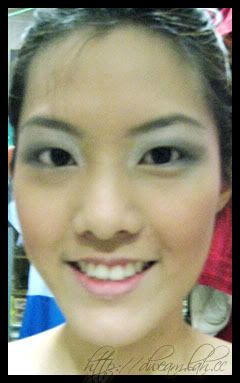 And now, to really transform your eyes into them doll eyes, big, fatty, luscious lashes are the key to making your eyes pop!
I use 2 mascaras to do the trick. First apply the primer of Maybelline XXL Volume + Length and it's corresponding black formula.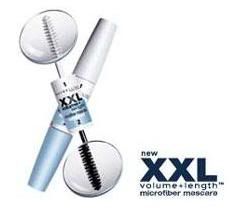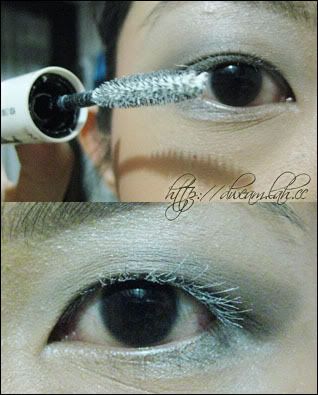 For volume, I use Loreal Voluminous Mascara. Bought it online cause it's not available in Singapore.
It's pretty good and it really gives the volume it promises.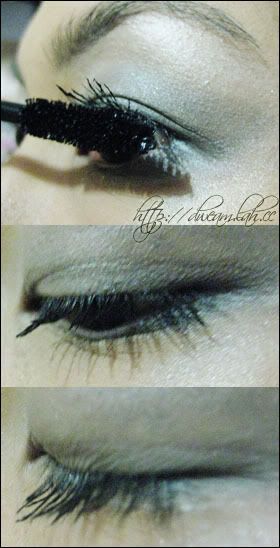 Though not water-proof, applied over the waterproof Maybelline mascara, it stays.
And the result?
VIOLA!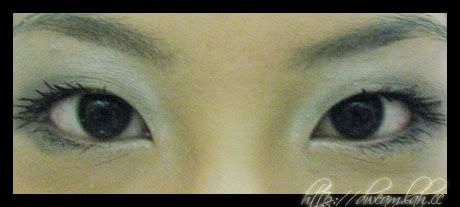 To really get OVER the TOP lashes, after all the mascara, I apply falsies. Haha. With falsies, you save yourself the trouble of using eyeliner. Wo0ot!
The trick to using falsies is remembering to CUT the length of the falsies to the size of your eyes or slightly shorter. Most falsies sold are really long and they dont fit the length of your eye. Using them straight out of the box would only result in the extra length stabbing your eye balls. Cut them to about THREE-QUARTERS of your eye before applying a thin layer of glue to the bone of the lashes.
Stick from the OUTER corner of your eye to ensure that the inner corner of the eyelash doesnt stab your eyeball when you open your eyes.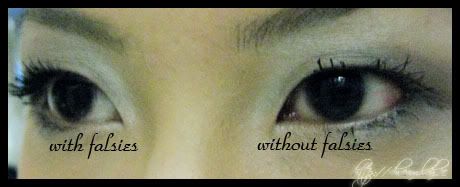 Falsies on both eyes. LOOK AT THE VOLUME MAN!
How dramatic!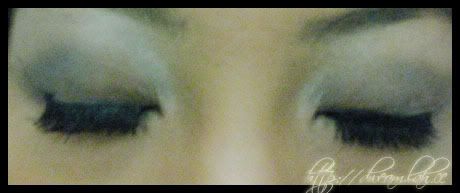 When that's done, all that's left, is for you to apply your favourite lippie or lip gloss!
And then.. START CAMWHORING the final results. HAHA!
Here are mine.
VIOLA!
With flash.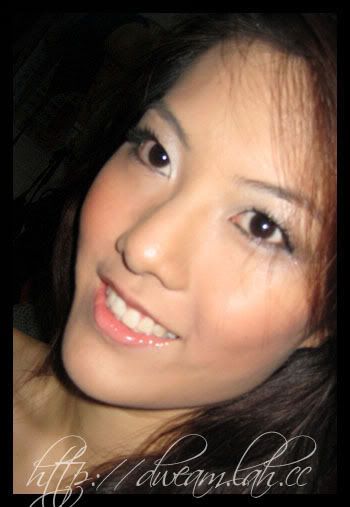 I like this shot. Perfectly flawless skin.
And finally, one last shot.
8 Responses to "My Make-up Tutorial"