Miss Singapore Universe 2008 Finals Picture Post
Posted by: dweam on: May 22, 2008
And this is how the event unfolded. This is for everyone who wasnt there and didnt have the moolah to fork out for even the cheapest table – 2k. Talk about buying 4 tables, each costing 5k.
Presenting to you the booklet. And your 16 finalists.
Click to enlarge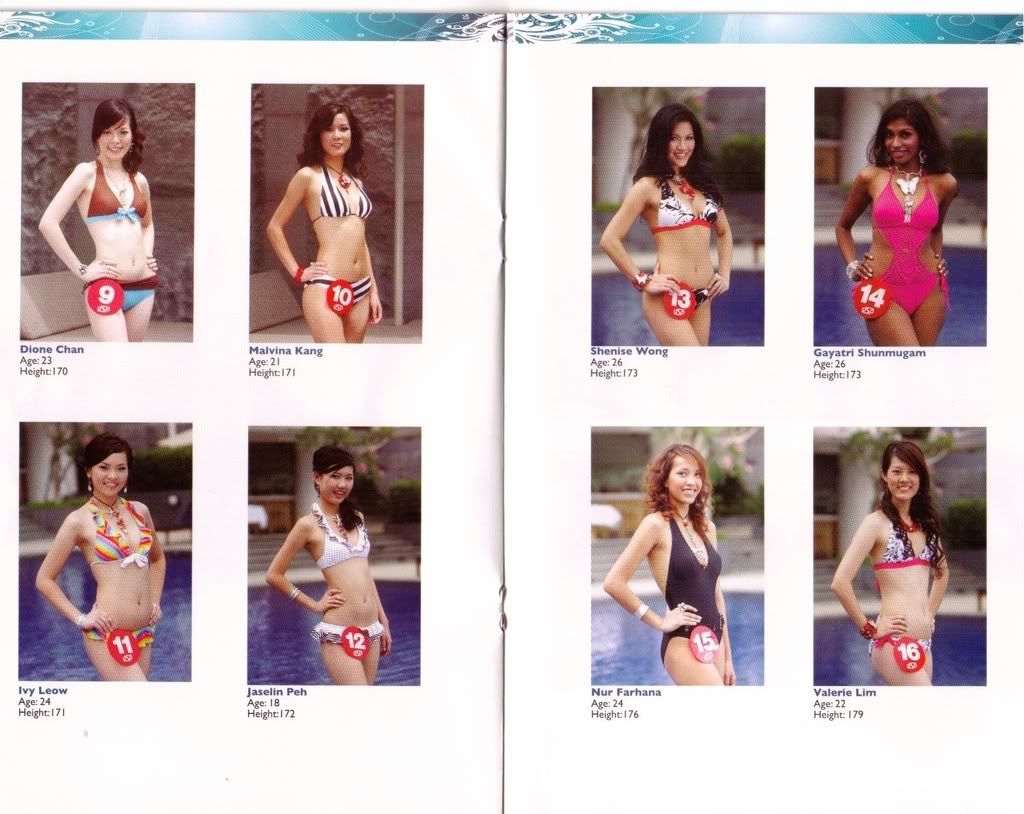 Informal group picture.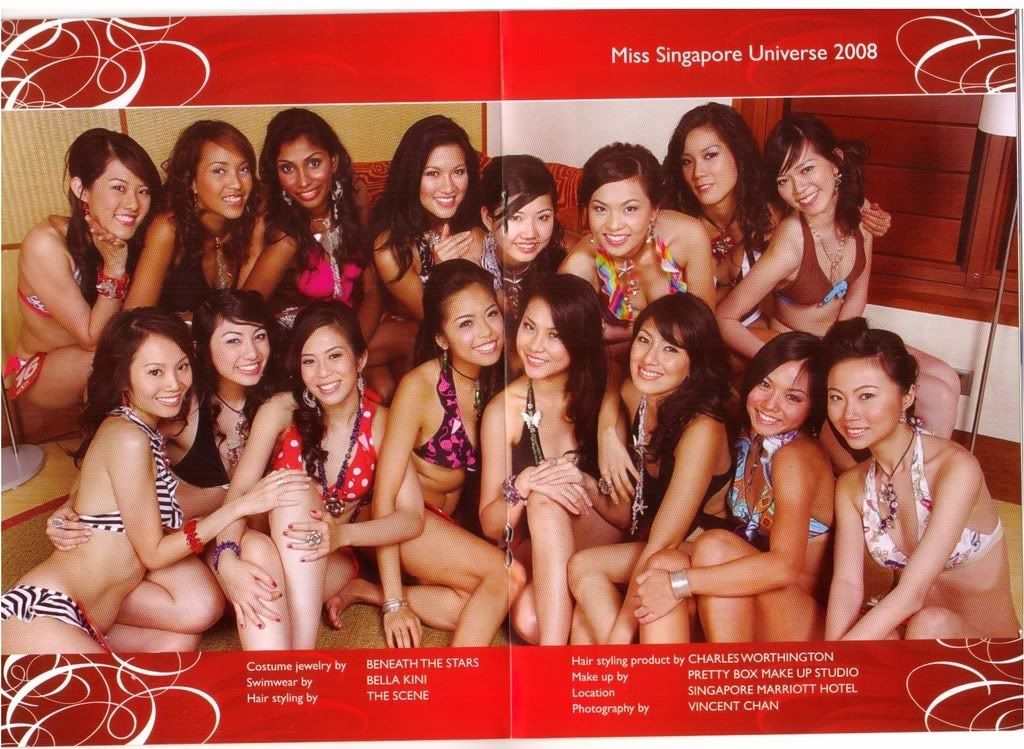 The settings.

Do you see that the light is in the shape of a star? Schweeet!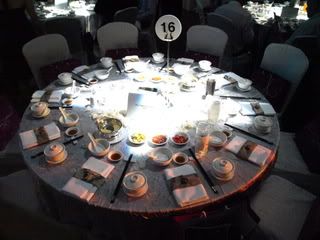 Us girls came out for the opening item in our casual wear sponsored by Beijaflor. A Brazilian brand which boasts a shop at Wisma. The outfits were of a more resort feel which added to the fun factor of the opening number.
The round wasnt judged. But definitely hyped the crowd up what with the mysterious sunnies and strong, energetic walks.
In between the first judging round (in bikini), the audience played some games and had their dinner. Then came the sexy swimwear sponsored by Bella Kini! For the finals they gave us monokinis! Definitely different from your usual flesh parade of bikinis. Monokinis are slightly more conservative yet at the same time provocative. I SUPER LIKE! And one monokini is rather cheap! About 40ish!

Sexy right.
The final and equally important judging round for the night was the elaborate and gorgeous evening wear by LuVie. Designers Jade and DeDe took the trouble to specially design the dresses that reflected each girl's unique personality. And we were adorned with various accessories like ribbons and feathers to add to the dramatic effect.

Speaking of dramatic, one girl took the word drama to a whole new level. She was said (and reported in the papers) to have stood on stage and posed with her arms up in the air. Apparently, what she did was slowly raise her arms into the air macham like doing tai-chi or yoga. Note that I didnt hear about this until the event was over because the evening wear segment was an individual one where girls went on stage one-by-one to strut their stuff. So, anyway, since my parents were in the audience and my brother was one of the unofficial photographers that night, he managed to catch this shot which I think is priceless.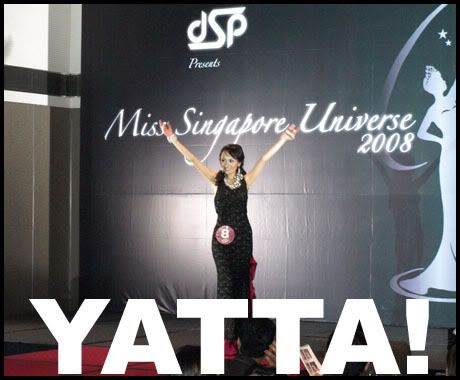 Jade is an ardent Hiro Nakamura fan. So much so, that she wants to invoke the spirit of Hiro during the pageant. Hahaha!
Ok lah. Dont laugh okay. She made it to the Top 8 spots and landed herself the subsidiary award Miss Beautiful Smile. Free dentals!

Jade Yip – Miss Beautiful Smile
The wait for the results of the Top 8 was a nerve-wrecking one. But it wasnt the last of our worries. Presenting to you Singapore, your Top 8 of Miss Singapore Universe 2008.

Geraldine Quek – Miss Personality
Geraldine is totally deserving of the title Miss Personality. She's such a darling. She gave us each a phone charm each with our initials and a small personalised note bundled along with it. HOW SWEEEEET! But that aside, she's just the gentlest person I know. Gosh. Im so glad she won. I voted for her! Wo0o0o0ot!

Malvina Kang eventually clinched 1st runner up.

Alyssa Kokilah

Valerie Lim. MEEEE!
Wahahaha. If you were wondering, yes, I made it to the Top 8 and that was as about far as I made it to. I have to admit that I was disappointed but it was a tough fight amongst the few of us.

Clickable – Gayatri (our 2nd runner up) is 4th from the left, number 14.
The Top 8 were subjected to QnA and the list of questions included things that ranged from personal to current affairs.
- What is love?
- If you were an animal, which would you be and why?
- For health, which of your favourite junk food would you give up and why?
- Is saving the planet more important than saving famine (hunger) and why?
- If you were to meet God, what would you ask him and why?
Our Queen this year, got the animal question. And her answer was along the lines of wanting to be a DOG that was owned by a loving and caring owner. She'd like to be a dog because dogs are loyal and man's best friend. Lol. In other words, she would like to be a female dog.
I lucky-drawed the global question and got feedback that I did the best out of the 8. *cough*itjustmeansimsmart*cough*
My answer to the question that everyone was preparing for, was, that saving the planet IS more important than saving famine because by saving the planet, we can actually reduce famine. Famine is due to a poor harvest of crops, which is affect by the weather. Weather becomes erratic when the ozone layer is damaged by the excess carbon dioxide human emit. Thus, by saving the planet, we can kill two birds with one stone. However, owing to its low percentage (20%) compared to the swimwear and gown segment which were split evenly (40% each), I didnt get top 3. It has however, been a very interesting experience and most definitely an eye-opening one. And I certainly wont forget the lessons we gleaned from this pageant. Haha.
I now present to you. Your QUEEN Singapore. The one who will be representing our little red dot on international grounds.

Read the press articles here and here.
The Queens in waiting were:
1st Runner up – Malvina Kang
2nd Runner up – Gayatri
Last year's Queen Miss Jessica Tan came back to crown the new winner. AND JESSICA IS SUPER PRETTTTYYYYYY! SO JEALOUSSSS! Didnt get to take picture with her. Booohoo.
You know they always say, the friendships formed during such events are precious and invaluable. Hahaha. I say, the friendships formed over cam whoring are the best! Here are some backstage peeks.
We were there since 12 and we had a couple of run-throughs.

Practicing walking.

Organisers goofing off. The lady on the left is our catwalk trainer and specialised image consultant – Elaine Heng. She's super pretty, sweet and very gentle! The nicest catwalk choreographer EVER.
Makeup behind the scenes.

My hair. Braided and twisted up.

Ironing our gowns.

Girls waiting around.
The people behind the scenes.

Jade and DeDe our gown designers. And that's me in my SGD399 casual wear outfit.

With Elaine

Nicole – contestant number 2. You will see more of her later.

Make up artist. Very important person who can make or break a queen.

Geraldine and Nicole
FUN SHOTS!! QUEENS GONE WILD. HAHAHA! This is while waiting backstage as the crowd in front was playing bingo. I swear it was the longest game of bingo and we were too damn bored. We were most definitely NOT nervous at this point in time, but rather, wondering when the heck we could kick our shoes off and run amok screaming like hyenas. At least that was for me. Haha. My feet were NUMB from stand a good 20 minutes at least through the QnA sesions without moving. I had no toes left! Haha. And my stomach was growling. Though there was food provided, sandwiches and chicken wings, we were kinda afraid to be gorging ourselves and ruining our makeup. But, HECK, I was so hungry after the QnA session, I immediately pounced on 2 chicken wings. Haha.

Kacy tries to LICK ME. Cos Im so TASTY! HAHAHA.

Kacy and Dionne try to pick a fight with each other. It's about to be a GIRL FIGHT!!!

Crystal moustaches.

Arabian princess.

IT'S ALL ABOUT THE BOOBIES! EVEN IF YOU DONT HAVE IT. FAKE IT!
Check out Nicole's expression. I ABSOLUTELY LOVE IT! HAHAHA! You go girl!

Lastly, acting cute.
1. 2. 3.
I'd like to thank everyone for showering me with their concern and much appreciated support via sms/tags/etc.

Mum made these adorable hearts to wave in the crowd and they were easily identifiable from the stage.
Pssst! Isnt Nicole cute?

MY LOVELY FAMILY! WHO WERE SO SUPPORTIVE ALL THE WAY! Mum and Dad beaming even though their little girl didnt make Top 3. *BIG WET EYES*
My brother is a budding photographer I tell you. The shots of the girls all came from him using my DSLR. He's only been using it for a couple of days now and HE'S SO MUCH BETTER AT IT!
Thanks to all my lovelies (you guys know who you are!) for screaming and cheering so loudly! I couldnt have done it without you guys. Though I feel a little regretful that I didnt win any titles, and I feel like somehow I disappointed the people around me, this is definitely an experience that opened my eyes to the things that people do just for namesake. The lengths they take to pursue a dream.
To end it off, here's a really hot pic of my BFF Liza and me! Wo0o0o0ot. I look so skinny here. And Liza looks hot.
WORLD PEACE YALLL!
*blows kisses*
19 Responses to "Miss Singapore Universe 2008 Finals Picture Post"