Mad about Makeup
Posted by: dweam on: November 25, 2008
I AM ABSOLUTELY MAD ABOUT MAKE UP!
Or make that I am completely and absolutely mad. Period.
Although I dont claim to have the largest stash of makeup, I would say I pretty much own quite a fair bit of make up of random sorts that I dont always use. And Im dying to add more to my collection.
But thank goodness I have pretty good self-control I must say. That and the fact that I think about how much makeup I use when I go to work on a daily basis: none. I take the statement about how I have self-control back.
On my recent trip to Bangkok, I bought 2 gel eyeliners from Kate by Kanebo. Kate is apparently the younger sister division of Kanebo but is not fully available in Singapore. I've heard rave reviews about it, both from a friend who is INSANE about makeup and online reviews, and I've been wanting to give their gel eyeliners a go. Thus the excitement and uncalled for shriek when I saw the brand in their Watsons. HOW COME SINGAPORE WATSONS DOESNT HAVE SUCH AWESOME BRANDS?!! Granted they just brought in Majolica Majorca but I bet Bangkok had it waaaaayyy before us and even our neighbour Malaysia had it quite a while back in their Watsons too!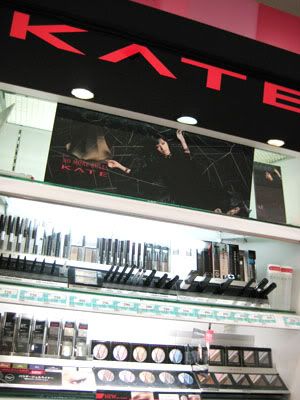 It's Kate! *squeeeee*
The best part about the Kate eyeliner is that it comes bundled with the eyeliner brush in every pack, unlike other brands that sell their gel eyeliner pots and brushes separately. And the brush itself has been raved about for its soft but firm bristles that make drawing eyeliner such a breeze.


image from precise-solar.com
Oh did I forget to mention that I bought it in Very Black and Brown?
And that's on top of their automatic pencil eyeliner which was also recommended by another gal pal whom I totally trust for makeup recommendations.
If that's not enough, I succumbed and got myself a eyeshadow palette in browns from one of their beauty stores in MBK Mall appropriately named Beauty Buffet.

Everyone loves a good buffet
Just look at the number of people in the store! The items were, if I dare say, almost dirt cheap when converted to our Singapore Dollar. I had almost wanted to buy the entire store because they had every shadow colour you could possibly imagine. On top of that, the makeup was all in absolutely adorable containers and packaging!

My eyeshadow palette
You may question the origins of their products but surprisingly when we looked carefully at the fine print at the back, it read Made in Korea! And it had real lasting power (tried and tested!). When I used it in the Bangkok climate one day from 7am in the morning to about 11pm at night, the colours were still as vibrant and brilliant at the end of the day as when I first applied it despite my oily lids. A-M-A-Z-I-N-G!
Think I'm done yet? Of course not.
I think because women have the freedom of dolling their eyes up in more ways than one (seriously, c'mon, how many ways can you apply foundation), I also added mascaras to my already chock-full-of-mascara makeup bag.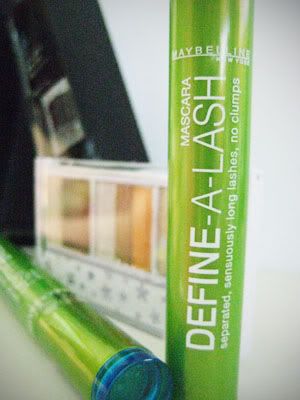 Maybelline's Define-a-lash
Never seen this brightly coloured green tube they call mascara in stores here? Well, if you guessed that I got it somewhere in Bangkok, you are right. To be precise, I got it at the duty-free in Bangkok's spanking new International Airport. I saw it, swooped down on it and decided to try the tester after some hesitation, unsure if a persistent sales-person would hover nearby. Instead, I was pleasantly surprised, both by how the mascara worked and the fact that no one came to pester me.
[youtube= http://www.youtube.com/watch?v=K7M70dYsr4c]
The mascara claims to lengthen and never clump.
And it lives up to BOTH its claims! I particularly loved how it separated my lashes and really made them look long and fanned out! It doesnt do much for volumizing your lashes but that could probably be solved with several coats. Still, because of it's silicone brush head, unlike conventional brushes, the brush manages to contour and reach lashes in the hard-to-reach places. This might just be my new favourite mascara. I am so glad I bought two just. in. case.
*dances a happy jiggle*
The only thing I didnt buy over there from Bangkok's superb range of makeup was foundation and blush because I didnt see much mineral makeup there, or rather none at all. Mineral foundation is probably that's the only thing I will ever apply to my naked skin on the account of it being non-comedogenic (no mineral oil!) and having loads of minerals in its composition that are beneficial to your skin. It provides great coverage despite its powdered form and feels absolutely light with no cakey feeling.
Now awaiting my M.A.C Limited Edition Carmine Eye Brush set in a red satin pouch! Hrm… Maybe I should have bought the Basic Brush set too. And the Carmine Warm Eyes Palette. Hrm…..
2 Responses to "Mad about Makeup"