Sephora Singapore
Posted by: dweam on: January 29, 2009
Although the store opened almost a month ago, I finally have the time so sit down and write about my experience there. Based on my web-browsing experience, I can safely say that Sephora is THE beauty junkies' playground.
With the various brands that it houses under its one roof, it never fails to make a girl hyperventilate when she sees the pretty collection of eye shadow palettes and what-nots from the various brands, even if it was via visual pictures from the screen! According the multiple sources, the store in the States is MASSIVE and I know I was absolutely psyched when I found out they were coming here. And too soon, they opened their doors here in Singapore.
Although size-wise the one here doesnt hold a candle to the original, they've introduced to Singaporeans at their flagship store in Ngee Ann City new brands like Too Faced and Pop amongst several others. The cute pink shelves and adorable packaging never fail to draw an endless stream of crowd to the brightly lit store. And of course, for me, the much anticipated Bare Escentuals line is THE other mineral makeup line that is a must try! I swear by Everyday Minerals.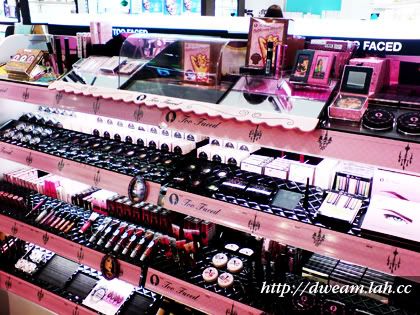 Too Faced is known for its Too Faced Shadow Insurance which is an eyeshadow primer that promises to "transform any eye shadow into a perfectly blendable color-drenched intensified version of itself then locks it down perfectly until you take it off." No wonder it flew off the shelves and people who are currently interested in getting it have to be put on a waiting list! BAH! And here I thought I could get my grubby little paws on it without waiting for it to be shipped all the way from the US. Hee.
Also, in my books, their Lash Injection mascara is a much anticipated product. Oh, I'm such a mascara junkie! I've got one in a sample size and will test it out soon!
The other new cutie in town is Pop Beauty. Check out the awesome eyeshadows. Arent they just adorable! The colours are pure LOVE!
Although I was thoroughly disappointed that they didnt bring in NARS or Urban Decay and the other major brands that I longed for, but instead housed some of the brands we were already familiar with (ie. Benefit, Sisley, Dior, Elizabeth Arden), they did however, bring in some organic makeup and a HUGE range of their house brand Sephora makeup.
With a vast array of makeup ranging from lipglosses to nail polishes, smoky eyeshadow palettes to everyday wear eyeshadows, mascaras, eyeliners and even special edition crystalised lipsticks, anyone who's into makeup is spoiled rotten for choice! They even have brushes for sale! I was so tempted to get myself some of their makeup and brushes to try but decided that I'd be unadventurous and get my fix of minerals from the Bare Escentuals series which used to only be available online.
This awesome All Over Face Colour set comes with a 0.85g container full of A Little Sun (a mix of sunlit copper and undertones of pink) and an excellent fan brush to sweep the colour in all the right spots. It's my current cant-do-without and I never leave home without 2 quick sweeps of the All Over Face Colour on my cheeks for the just-got-out-of-the-sun look.
Browse around the store and Im sure some little nugget from the shelves may just have your name on it. If nothing really appeals to you, and all else fails, cam-whore in the store with the pretty mirrors.
7 Responses to "Sephora Singapore"