M.A.C Hello Kitty Launch
Posted by: dweam on: March 15, 2009
I've been away for the weekend but am back! I had a fabulous weekend coupled with a tint of a tan from frolicking in the sun. Coming up will be a slew of posts with super pictures! But now, the post you've been waiting for.
Your two roving reports for the night.

Miao Mi and Miao Mu with our Hello Kitty lipglass moustaches.
There was quite a lot of buzz around this collection and we were super psyched to see what they had in store for us. Although we had some sneak peaks in the form of press releases, it was different when you literally got your paws (pun fully intended!) on it.
It all happened at Vivo City, and it was slated to be an event for media and friends. It was pretty interesting to see the who's who present for the awesome unveiling of the collection.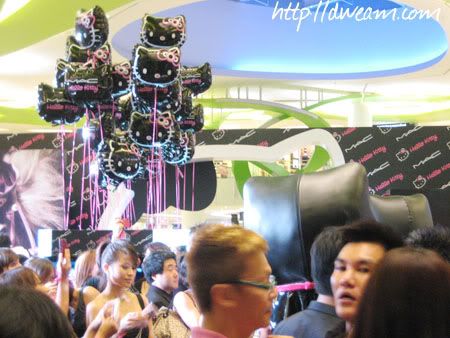 A peep into the booth and, wait a minute! Is that a familiar face I see? Yes, some local celebs we scouted included Channel 8 artistes including Quan Yi Feng and Mark Lee. Celebrity stylist Addy Lee was there too.
Of course in the interest of being cool and "important", you must always remember never to act fangirly in front of celebrities.
Anyway, interesting sights inside included, a Hello Kitty with a MAN'S BODY.
And Hello Kitty balloons! Haha.
Then, the models from the editorials magically walked out of their portraits and appeared on two separate stages. Presenting Kitty Mild and Kitty Wild!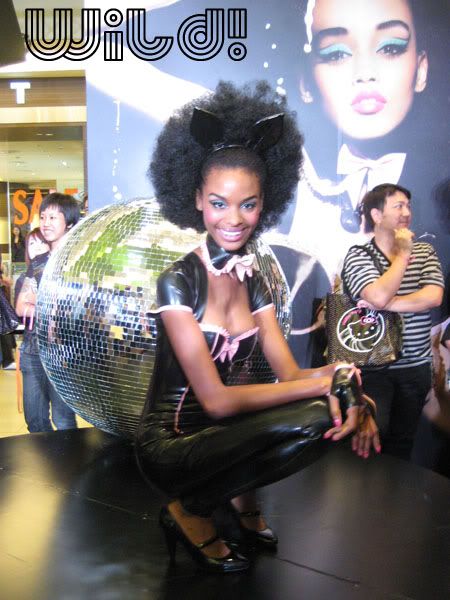 So purty! Beauty that makes all of us feel inferior. The girls were swamped with requests from everyone for a photo opportunity which they willingly obliged.
As Belle and I mingled, we were served hors d'oeuvres and adorable pink drinks that surprised us. They were mixed with alcohol! Haha. There was a make up booth right smack in the centre with the two different collections on display. And we zoomed in on them like hunting hawks testing out the colours on our skin. Hello swatches!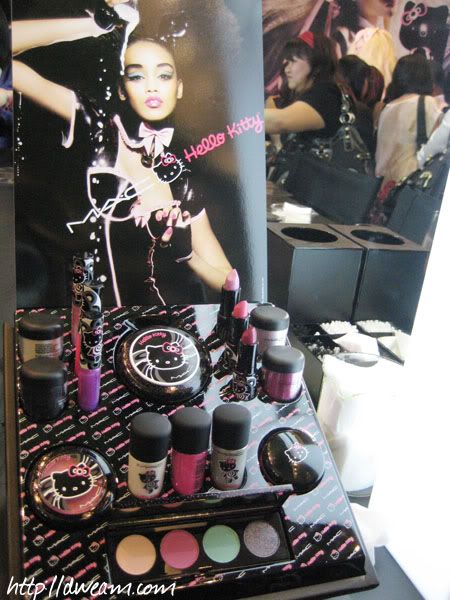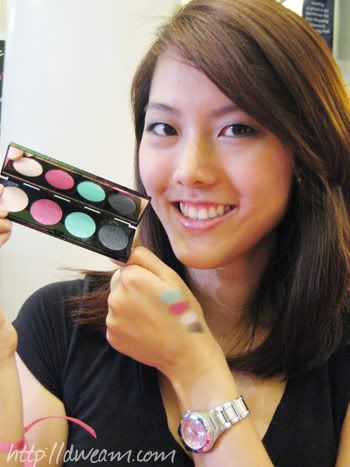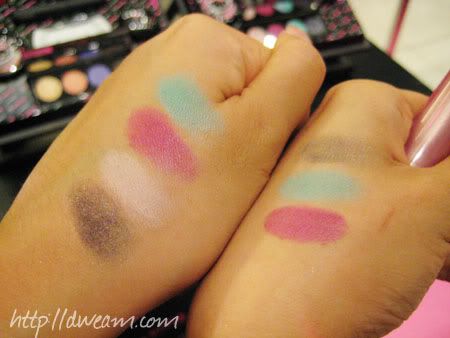 The Too Dolly palette tested on my skin and Belle's skin. I particularly like how the green and fuchsia turn out. Meowr! The Milk pigment was sooooo beautiful too! It felt like fairy dust and I wanted to sprinkle it all round and dance in the middle of it. Haha.
I then, decided to give the Mild Lucky Tom palette a shot, testing out the purple and black.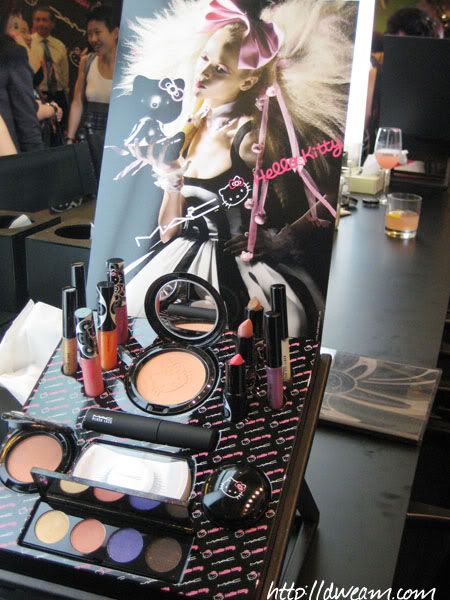 Looks like a pretty good combination to me! And they might just be more suited for daily use.
Other than the make up range that is making a splash, there were cute little accessories like the 14″ plush doll, compact mirrors, bracelets, soft vanity cases and limited edition brushes available too.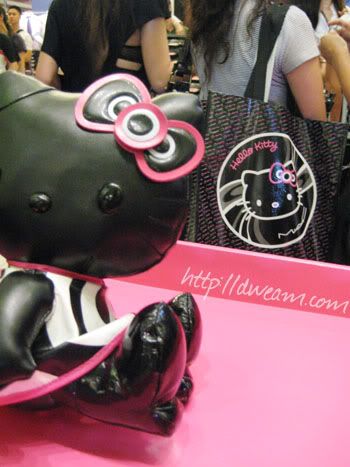 Although the event was a private one, and we lucky invited guests got to see the items up close firsthand, there were others who wanted in on the action. Check out the crowd in the background in a failed attempt to camwhore with the Hello Kitty ribbon shaped cookies.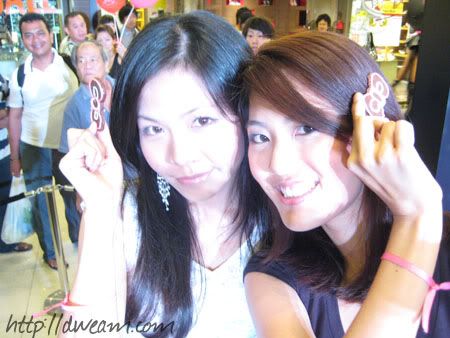 And what's a beauty event without a goody bag?!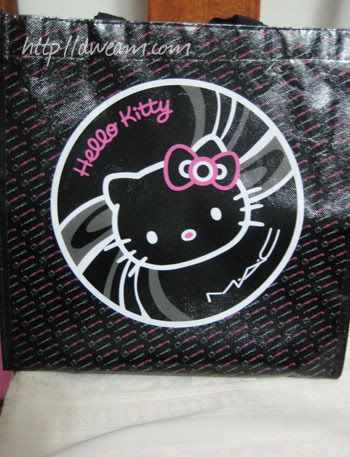 The bag was a specially printed one created just for the event. Fantastic! Inside, there was a Tangs voucher for you to get some of the lovely stuff after the event, brochures, an adorable Kitty tattoo and samples! We each got one eyeshadow and a Hello Kitty Lipglass Lip Gloss each! My Lipglass was called Nice Kitty – a wonderful bright pink that gives your lips a healthy flush of colour.

Eyeshadow in Concrete and Nanogold.
I tried the Lip Glass and really liked it because when the lipgloss "dries" your lips look like they're glassed over, making them shiny and pouty.
My M.A.C face:
Eyes – Royal Assets palette in Smoky Eye,
Cheeks – Pinch 'o' Peach
Lips – Lipglass Lip gloss in Nice Kitty
Because we hadnt had our dinner prior to the event, we adjourned for dinner afterward and attempted to eat the yummy-licious lip gloss. Haha!
You can tell the extent of its yummy-ness by how hungry Belle looks. She looks like she's about to swallow it. Haha!
Twas so much fun. And I have to say a big thank you to Joey from M.A.C for the invite. Thanks babe! A lovely polaroid at the cute M.A.C Hello Kitty wall to end the night off.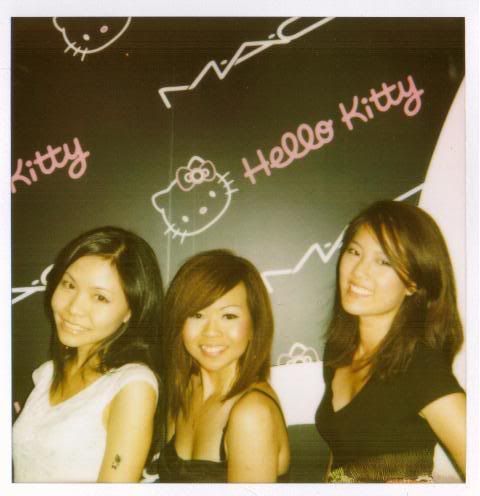 2 Responses to "M.A.C Hello Kitty Launch"