Face of the Day (FOTD): Too Faced Classic Smoke
Posted by: dweam on: May 31, 2009
I am a sucker when it comes to smokey eyes. Although my daily makeup routine is pretty fuss-free and consists primarily of light makeup, I do like to indulge and go a leeeeetle over the top when it comes to events and partying. It was thus hard to resist the Too Faced Smokey Eye Palette when it was dangled in front of me with a discounted price of $49.
I'll tell you what happened.
I walked into Sephora hoping just to chill and look at the pretty colours that deck the shelves of the various makeup brands one fine and dandy day; I had no intention of shopping for anything. And then, I realised that Pop Beauty was having a 50% off their eyeshadow wallets. Okay… Breathe, I said to my already excited little heart. Let's go see if they're worth checking out.
Lo and behold, they were p r e t t y awesome.
For a 24 colour eyeshadow wallet (they're called wallets cause they're flat and long and well, duh, like real wallets) whose original price was $65, $32.50 was a pretty good price for that number of eyeshadows. And convenience came in the form of the wallet which had everything – eyeshadows, blushes and lipsticks sans foundation. Imagine going out in the day without makeup and having a last minute meeting scheduled for the afternoon. What do you whip out? Your makeup wallet of course. Just slap on some lipstick, blush and maybe some eyeshadow if you have time. Sounds really inviting to a lazy bugger like me.
"Okay, let's think about it", I told myself. Afterall I really had no intention of buying anything and wasnt going to go on a spur of the moment shopping spree. Whilst walking around and browsing the pink shelves of the Too Faced counter, the salesgirl approached and whipped this out.
HOLY COW!
Smokey eyes in a beautiful black and purple packaging! And check out the gothic font.
It was hard to resist. I can feel my inner goth rock chick slowly creeping out.
So I succumbed. I bought it.
There were three different types of smokey eye colours (9 colours in total) in the palette: day smoke, classic smoke and classic smoke. Perfect for use in all different occasions.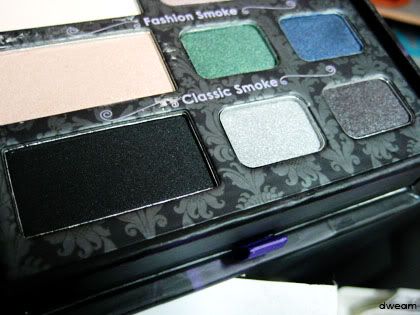 Had my brother's 21st dinner party last night and I decided to break out the palette. So here's my face of the day with the Classic Smoke from the palette.
Isnt it gorgeous!?
The colours really stand out on camera and is soooo pigmented.
Face of the day
Face:
Everyday Minerals mineral foundation in Olive Golden Medium (my holy grail!)
Benefit Dandelion blush
Eyes:
Too Faced classic smoke in Smokey Eye palette
Kate Gel Eyeliner
Beauty Buffet eyebrow pencil
Maybelline XXL Waterproof mascara
L'oreal Voluminous mascara
Lips:
Maybelline Fruity Jelly lipgloss
Get the look here.
8 Responses to "Face of the Day (FOTD): Too Faced Classic Smoke"