Tutorial: Too Face Classic Smokey Eyes
Posted by: dweam on: June 3, 2009
Short note: IM GOING TO THE PUSSYCAT DOLLS CONCERT! My idols! *fangirly*
Here's the how-to on the awesome classic smokey eyes based on the Too Faced Smokey Eye palette!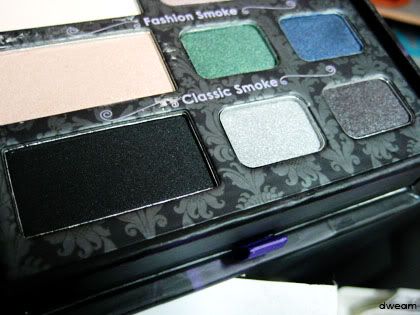 The great thing about this set is that it comes with brushes and tutorials on how to use the colours in the palette, but I slightly modified it cause it was more for Western eyes than Asian eyes.
Before

1. Apply silver to the entire eye area up to the brow.

2. Next, apply to the lid up to eye socket Black Spark.

This is what you should get when you open your eyes.

3. Finally, use Black Suede on your crease and line/rim your lower eyelid with the same colour. I'll tell you the brush included in the set is awesome for lining your lower eyelid. The brush picks up the pigments beautifully and deposits the colour evenly on your eyes.

4. This is the secret to getting that smokey effect. BLEND BLEND and BLEND! Use a windscreen wiper motion – left, right, left, right and a clean soft eyeshadow brush to do your blending. This helps your eyeshadow colours "melt" into one another and doesnt look like you slapped each one on individually.
Once done, continue with your eye liner and mascara. I personally believe in double mascara-ing your eyelashes.

The result. You might have already seen it, but here it is again, because I love it so much.
And that's is! It's so simple.
1 Response to "Tutorial: Too Face Classic Smokey Eyes"