DIY: Bling Lashes
Posted by: dweam on: August 11, 2009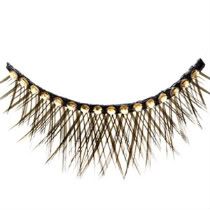 source: http://www.shuuemura-usa.com
Shu Uemura with it's Lash Bar has introduced some of the most dramatic and glamourous eyelashes. While some of the fantasy and over the top ones should be reserved for the pages of high end fashion shoots, they have a wearable glamourous range that I personally like. These come set with dazzling diamantes in brilliant blue and gorgeous gold.
Because I love falsies and love DIY-ing, I decided to get started on my own pair of bling lashes for almost 1/5 the price.
Things you need:
- a pair of your favourite eyelashes
- Epoxy glue (you can get them at most craft stores like Spotlight)
- Swarovski crystals or small gems slightly bigger than your lash bone
Alternatively, you can be a lazy girl like me and opt for a bottle of glitter nail polish.
With the crystals, to jazz up your lashes, all you have to do is apply a thin layer of the epoxy glue to your lash bone and then carefully apply each gem along the lash bone and let dry for about 6 hours. You can customise what colour gems you prefer on your lashes and might even consider putting rainbow coloured gems to match your outfit! It's a little more tedious but the results are fantastic.
Using the glitter nail polish is much easier.
Just apply a thin layer of polish using the nail brush till desired amount of glitter is on your lash bone. Wait till the previous layer is dry before applying the next one.
You should end up with something similar to this pair I did myself.
I personally like polishes with glitter bits like the ones from The Face Shop. They go for about 9 bucks a bottle and you can touch up your lashes whenever!
If you decided to embark on this DIY project, let me know if it works for you like it did for me!
In the meantime, some fake lash rules:
DO buy different lengths of lashes and trim them so they fit comfortably on your eye.
DON'T forget to apply a slick of black liner (preferably liquid) on top of the upper lashes so the falsies blend in.
DO soften false lashes by bending them before application.
DON'T forget to curl your own lashes before applying false lashes on. You want them to point in the same direction as the false lashes do.
DO dot a little extra glue on the corners of the false lashes where they tend to come undone.
1 Response to "DIY: Bling Lashes"