DIY/How-to: Applying Fake Nails
Posted by: dweam on: January 13, 2010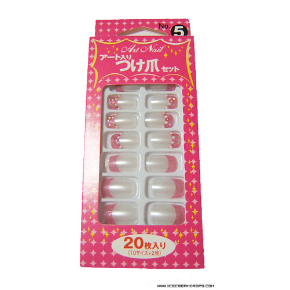 I've never had to bother with fake nails. Being absolutely clumsy it was either I cut them short, grew them out or get gel/acrylic extensions. But if you're always busy working with your hands, what happens when you need a temporary permanent situation?
Fake nails to the rescue!
I only used them a couple of days before the actual Coronation while other girls sported extensions the whole time. Turns out they're actually pretty easy to use!
What you need
- a fake nail kit (you can easily purchase them from a local drugstore)
The nail kit usually comes with an emery board, cuticle stick and nail glue. Otherwise, you will need to purchase them separately.
How to
1. Remove any trace of nail polish on your natural nails using cotton balls and nail polish remover. Wash your hands and dry thoroughly.
2. Apply hand-cream and allow it to soak into your skin.
3. Before applying the artificial nails, select the most appropriate sized one by matching the artificial nail to your natural one. The artificial nails should cover your natural nail and not be smaller than your actual nail.
4. Push your cuticle back to expose as much of your natural nail as possible.
5. File your nail surface using the emery board until it is smooth. This allows the glue to spread evenly and provides a better adhesive when you apply the artificial nail.
6. Spread an even layer of glue to your thumb and apply the fake nail starting from the edge nearest the cuticle. Apply gentle pressure and hold the fake nail down for 5 to 10 seconds before releasing.
7. Repeat Step 6 for the rest of the fingers.
8. Once you are done, viola, stretch your hands out and enjoy your handiwork! You can also choose to file any rough edges down or even shape the nails to any shape or length you want.
3 Responses to "DIY/How-to: Applying Fake Nails"